MY 4 MOUTHPIECE MODELS AND CATEGORIES:
MY 3 CATEGORIES:
I HAVE 2 OPTIONS FOR MY CATEGORY 1 MOUTHPIECE:
ONE IS A SPREAD SOUND, (THE MERLOT), AND THE OTHER IS A FOCUSSED SOUND, (THE CLASSIC).
THIS ALLOWS THE PLAYERS AN EASY CHOICE FOR THIS CATEGORY.
CHOICE 1—–> "MERLOT" HARD RUBBER:
WARM, OPEN, AND SPREAD SOUND THAT YOU CAN HEAR AND FEEL FROM EAR TO EAR WHEN YOU'RE PLAYING. THIS IS A RICH, FULL-BODIED PIECE WITH POWER DEPTH, AND CLARITY. THE SOUND OPENS UP WHEN YOU GO UP TO THE PALM KEYS SO YOU CAN LET LOOSE AND NOT FEEL RESTRAINED AT ALL.
CATEGORY 1 MOUTHPIECE:
CHOICE 2—–> "THE CLASSIC"
"THE CLASSIC" HARD RUBBER: WARM, OPEN, RICH, AND FOCUSSED WITH LOTS OF POWER AND A BEAUTIFUL RICH DEEP CORE SOUND. MORE FOCUSSED THAN BOTH THE MERLOT AND ROBUSTO MODELS. THIS IS FOR THE PLAYER THAT WANTS A FOCUSSED SOUND THAT STILL FEELS FAT FOR THE PLAYER AND PROJECTS LIKE CRAZY OUT TO THE AUDIENCE, WHILE RETAINING A RICH AND WARM EVEN TIMBER TOP TO BOTTOM. FANTASTIC ALTISSIMO FOR A LOWER BAFFLE, WARM PLAYING, HARD RUBBER MOUTHPIECE! THE INTONATION IS REMARKABLE AND IT REALLY LOCKS IT IN FOR THE PLAYER. IT DOESN'T LET YOU GET WILD.
LIKE ALL OF MY MOUTHPIECES, YOU CAN MAKE IT DARKER, WARMER, OR PUNCHIER WITH SIMPLE REED CHOICES.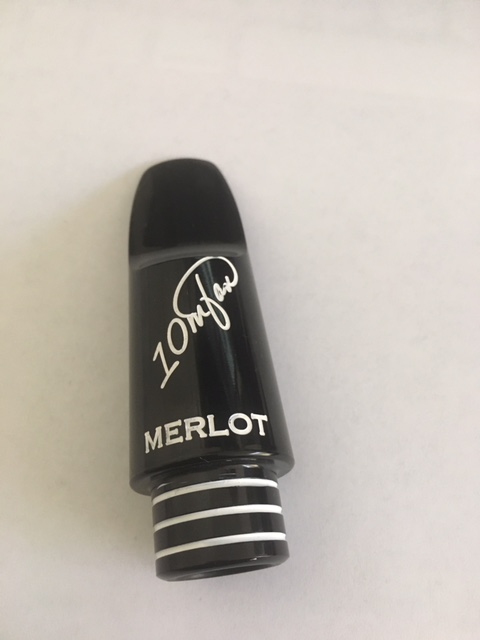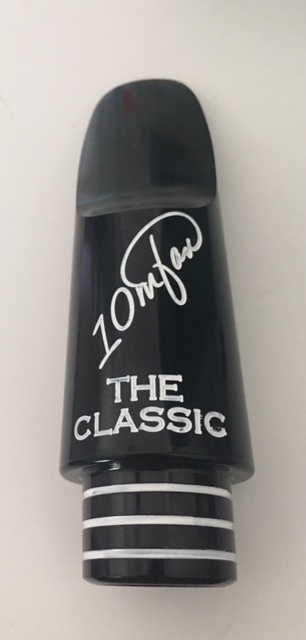 CATEGORY 2 MOUTHPIECE:
"ROBUSTO" HARD RUBBER: FOR ME, THIS IS GREATEST ALL-AROUND HARD RUBBER JAZZ MOUTHPIECE I'VE EVER PLAYED
FOR ME, THIS IS HARD RUBBER PERFECTION!
THIS WAS DESIGNED TO HAVE A WARM AND PUNCHY SPREAD SOUND….ALA MY HERO AND INSPIRATION FOR THIS MOUTHPIECE…GENE AMMONS!
I DESIGNED IT TO BE MY PERSONAL TENOR MOUTHPIECE—-AND IT IS. FOR ME, THIS OFFERS THE PERFECT BLEND OF LOWS, MIDS, + HIGHS, AND HAS A RICH COLOR PALETTE AND WIDE DYNAMIC RANGE. THE SOUND HAS A REALLY GREAT CLASSIC WARMTH AND BRIGHTNESS AVAILABLE AND PLENTY OF PUNCH TO IT WHEN PUSHED! THIS HAS A TIMELESS "HARD BOP NY TENOR SOUND" AND A MODERN SOUND IS AVAILABLE FROM IT AT THE SAME TIME. CLASSIC STRAIGHT AHEAD SOUND WITH MORE POWER AND PUNCH AVAILABLE THAN THE TRADITIONAL VINTAGE MOUTHPIECES…AND WITH A NICE CLASSIC SIZZLE ON TOP WHEN YOU WANT IT. LOTS OF ROOM TO LET LOOSE WITH THIS PIECE. IT OFFERS GREAT BODY AND DEPTH. IT'S CLEAN AND POWERFUL TOP TO BOTTOM WITH A HUGE BODY OF SOUND. LIKE ALL MY MOUTHPIECES, THE SOUND "OPENS UP" BEAUTIFULLY AS YOU PUSH IT. THIS HAS A LONGER BAFFLE THAN THE MERLOT AND THE CLASSIC MODEL,AND THE SOUND IS BIG AND FAT WITH MUCH MORE PUNCH AVAILABLE. THE ALTISSIMO SING WITH A FULLNESS ON THIS PIECE. THEY DO NOT GET THIN OR EDGY FOR ME. THIS PIECE IS THE BEST ALL-AROUND STRAIGHT AHEAD JAZZ HARD RUBBER MPC I HAVE EVER PLAYED. AGAIN, I DESIGNED IT TO BE MY PERSONAL TENOR MPC—–AND IT IS. MY SEARCH FOR THE PERFECT MOUTHPIECE HAS ENDED HERE. PHAROAH SANDERS, JOEL FRAHM, JERRY BERGONZI, JAN GARBAREK, ARNIE KRAKOWSKY, DAVID MANN, MAX IONATA, DOUG WEBB, IVAN RENTA, DAVE O'HIGGINS, EMANUELE CISI, KEN GIOFFRE, HERVE LETOR, THIAGO FERTE, ANTOINE RONEY, JEFF ELWOOD, AND SO MANY OTHERS ARE JUST A FEW OF THE GUYS THAT YOU MAY HAVE SEEN PLAYING ON MY ROBUSTO MODEL– AND EACH GETTING THEIR OWN PERSONAL SOUNDS FROM THAT SAME MOUTHPIECE MODEL.
FINALLY, MOUTHPIECES THAT CAN GET BOTH THE VINTAGE VIBE AND MODERN VIBE!
MY HARD RUBBER ROBUSTO ABSOLUTELY SMOKES THE VINTAGE SLANTS AND EARLY BABBITT LINKS FOR ME.
MUCH MORE DEPTH, WIDTH, AND BODY!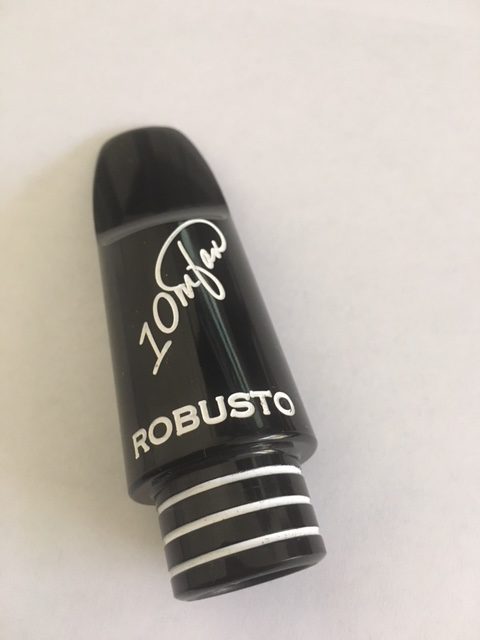 CATEGORY 3 MOUTHPIECE:
"BLACK WIDOW": Powerful "cross-over" moderate height baffle mouthpiece with huge depth and a vibrant core sound, that can be used for all settings from quiet to nasty funk!.
More powerful and has more brights than my other models.
A piece the jazz guys can use easily, and the pop/smooth jazz and funk players love.
It has become clear that many players want a "cross-over" category piece that is different from the other models. Something easily used for jazz stuff AND for guys playing commercial pop, blues, smooth jazz, rock, and funk type of stuff too.
The BLACK WIDOW will be loved by jazz players looking for a powerful piece that can be used for straight ahead stuff+++, and also the more commercial players looking for another design option for a powerful piece with a longer and more moderate baffle height design. The baffle goes to the chamber and makes this piece incredibly versatile.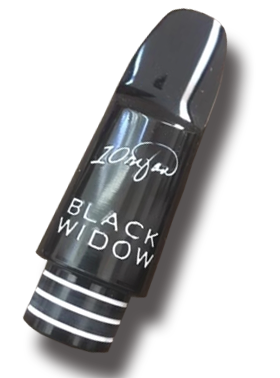 "THE BOSS" METAL:
I HAVEN'T LEFT OUT THOSE WHO WANT TO LET LOOSE! THIS PIECE IS DESIGNED TO ACCOMMODATE THOSE LOOKING FOR GREAT POWER WITH FULLNESS, BODY, DEPTH, AND CLARITY— TOP TO BOTTOM!
THIS MOUTHPIECE CAN BE PLAYED WITH A HUGE, MEATY, FAT, POWERFUL WARMER CORE SOUND ALL THE WAY TO A VERY BRIGHT AND POWERFUL SOUND DEPENDING ON HOW YOU PLAY— WITHOUT SACRIFICING A DEEP RICH CORE AND VERY COMPLEX CENTER.
IF YOU ARE A PLAYER WHO BLOWS DARKER:
THE SOUND WILL BE VERY POWERFUL, THICK, RICH, WARMER YET PUNCHY AND MEATY WITH TONS OF POWER TOP TO BOTTOM.
IF YOU ARE A PLAYER WHO BLOWS BRIGHTER: THIS WILL BE A VERY POWERFUL, BRIGHT METAL MOUTHPIECE FOR YOU— YET IT IS SUPER FLEXIBLE IN WHAT IT CAN DO. THE MULTI-PHONICS AND ALTISSIMO ARE TRULY INCREDIBLE. THIS MOUTHPIECE CAN BE PLAYED QUIETLY AND RETAINS A HUGE, FAT TONE, AND HAS THE AVAILABILITY OF EXCEPTIONAL POWER THROUGHOUT THE RANGES. IF YOU'VE HAD BAD LUCK WITH HIGHER BAFFLE PIECES IN THE PAST, ALLOW ME TO SHOW YOU HOW GREAT THIS CAN BE WHEN EXECUTED PROPERLY. THIS DOESNT FEEL LIKE A HIGH BAFFLE PIECE TO ME. I'VE HAD FRIENDS PLAY IT AND THEY ARE AMAZED AT HOW THE AIR GOES THROUGH IT. THEY AGREED IT DOESN'T FEEL LIKE A TYPICAL HIGH BAFFLE TO THEM EITHER. IT HAS ENORMOUS DEPTH AND FLEXIBILITY.
tHIS PIECE IS VERY FREE BLOWING AND IF YOU HAVE ENJOYED GUARDALAS, PONZOLS, DUKOFF SUPER POWER CHAMBERS, JODY DV'S, DURGAS, ETC….I MADE SURE THAT WHAT I FOUND TO BE MISSING FROM THOSE PIECES, WAS REMEDIED HERE, AND THATS WHAT THE BOSS IS.
SPECIAL NOTE:
I RECOMMEND YOU GO UP IN TIP SIZE FROM WHAT YOU NORMALLY PLAY ON. I RECOMMEND IF YOU PLAY ON A HIGHER BAFFLE PIECE, THAT YOU GO FROM YOUR 8* TO MY BOSS 9 OR 9*, AND JUST ADJUST REED SIZE ACCORDINGLY. THIS PIECE IS VERY FREE BLOWING SO THE TIP CHANGE WILL NOT BOTHER YOU—IT WILL BE BETTER FOR YOU. THIS PIECE IS A BEAST. THE BAFFLE IS HIGH BUT NOT OVERLY LONG, SO THAT THERE ARE PLENTY OF LOW'S AND MID'S IN THE SOUND ALONG WITH THE HIGH'S. THIS MOUTHPIECE IS APPROPRIATELY NAMED "THE BOSS".
*A HIGH BAFFLE METAL MOUTHPIECE THAT CAN BE PLAYED WARMER AND PUNCHIER ALA STANLEY TURRENTINE,OR BRIGHT WITH LOTS OF POWER DEPENDING ON THE PLAYER, REED CHOICE, ETC…
*A HIGH BAFFLE METAL MOUTHPIECE THAT CAN GET SULTRY AND STAY FULL-BODIED WHEN PLAYED QUIETLY.
*A HIGH BAFFLE METAL MOUTHPIECE THAT CAN GET A VERY PUNCHY BRIGHT SOUND FOR POP STUFF, OR A FULL-BODIED SOUND WITH LOADS OF POWER THAT CAN BE USED FOR STRAIGHT AHEAD PLAYING AS WELL.
*A HIGH BAFFLE MOUTHPIECE LIKE NO OTHER