The year of giving back, continues. I am offering all of my Generation ll designs for alto and tenor in limited quantities in this fantastic Ultem material. It is a super strong semi transparent orange plastic that sounds absolutely fantastic. So strong, that it's heat resistant to over 400° IT SOUNDS AND FEELS GREAT TO ME. I really could not be happier with how my mouthpieces sound in this material and I am happy to offer them at this low price in limited quantities and sizes. A special thank you goes out to my friend Ron Coelho at RPC Saxophone Mouthpieces for being the first out there to try this material and make it known to be an absolutely fantastic option for mouthpieces. If you haven't checked out his mouthpiece line—you should. My new craftsman is doing all of these Ultem pieces along with all of my hard rubber pieces. All of my new Generation ll pieces are expertly hand finished, and they have the USA engraved on the side.
I will not be offering them as an option that can be ordered directly through my website. Just email me and let me know which model and size you are interested in, and we can go from there.
MY EMAIL IS: CONNSAXMAN@COMCAST.NET
A TOOLING MARK MAY OCCUR SO DON'T FREAK OUT! 🙂
Because this material is a semi transparent plastic and we use CNC machines to cut the pieces, before hand finishing them, it's possible that you might see a tooling mark somewhere on the inside. This is a spot where the tool path might change direction, etc. The designs are intricate and the only thing any slight mark will affect is your eyes.
MY PROFESSIONAL ADVICE——–> The pieces play incredible, so just sit back and enjoy the great designs at this great price, and have fun!!!
My craftsman also undercuts under the tables to make the pieces play even better. We do not hide any of the great handwork, because the handwork is done to make the pieces play their best. I'm just very picky and I know a lot of players get caught up with little visual things, so I want to make sure that people understand that you might see a tooling mark, so don't freak out. I just want to be upfront with that. Also, I play EVERY single mouthpiece I sell, and they all play exactly as designed…..which is ABSOLUTELY STELLAR! ***
CHECK OUT STEVE NEFF'S GREAT REVIEW HE DID ON 8/19 AT HIS WEBSITE: WWW.NEFFMUSIC.COM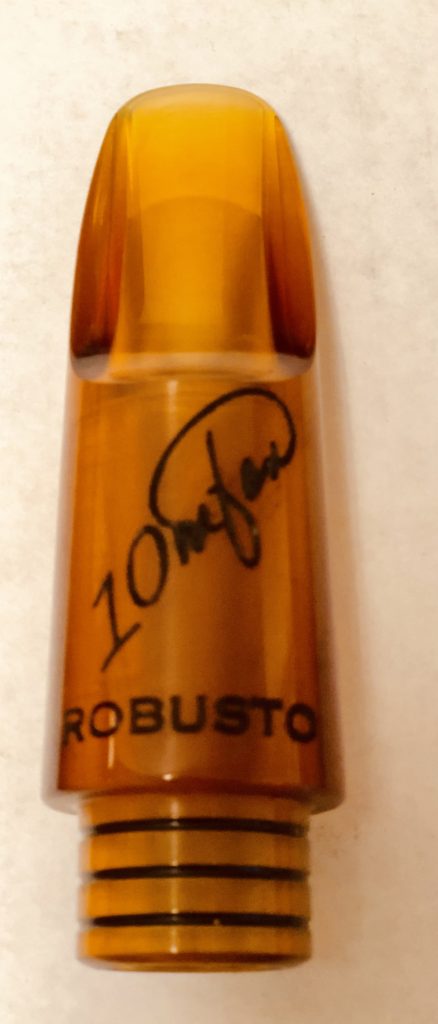 Just contact me directly at: connsaxman@comcast.net