Description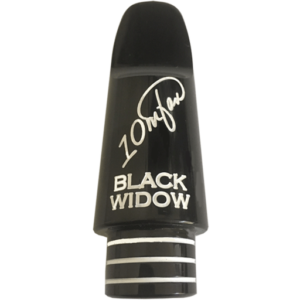 Black Widow:
Powerful "cross-over" moderate height baffle mouthpiece with huge depth and a vibrant core sound.
So many players love the Merlot model because it is warm and open blowing. It has the lowest baffle height of any of my pieces and gets a huge warm and open sound. Others who want more punch and bite than that, will love The Robusto model. The Robusto is a killer all-around player, but definitely leans more for the jazz player who wants some extra fatness and punch. It wasn't designed to be a "pop" piece, but it has plenty of power to be used in a huge variety of settings. It has a longer, moderate baffle height and is incredibly well balanced.
Others who seek much more power and available brights for more pop, funk, R&B, etc..will love the BLACK WIDOW.
The BLACK WIDOW will be loved by jazz players looking for a powerful piece that can be used for straight ahead stuff+++, and also the more commercial players looking for another design option for a powerful piece with a longer and more moderate baffle height design than The BOSS HR. The baffle goes to the chamber and makes this piece incredibly versatile.
This describes this new piece perfectly.