Hand finished German bar stock hard rubber tenor mouthpieces
There are 6 tenor mouthpieces to choose from here: Merlot, The Classic, Robusto, Showtime, Black Widow, and Super Widow.
These are thoughtfully and carefully broken up into 3 categories to make your mouthpiece choices easy. Each of my 3 categories have a focused option and a spread option so you can truly dial-it-in for yourself. This is my vision to make mouthpieces choices easy and clear for players. This set up is unlike any other mouthpiece makers website out there.  Its  so simple – pick your category, then decide if you prefer a more spread or focused sounding mouthpiece for yourself.
Category 1 mouthpieces – Warm category mouthpieces
Option 1: "MERLOT" hard rubber – Spread, warm, fat open sound
Warm, open, and spread sound that you can hear and feel ear to ear when you are playing. This is a rich, full bodied piece with power, depth, and clarity. The sound opens up when you go up to the palm keys so you can let loose and not feel restrained at all.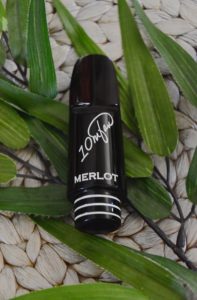 Option 2: "THE CLASSIC" hard rubber – Focused, warm, open sound
Focused, warm, rich, full sound with lots of power and a beautiful deep, rich core top to bottom! The sound is more focused than both the Merlot and Robusto models.  It still sounds fat to the player, and projects incredibly well out to the audience. Always retains a rich, warm, and focused sound no matter what volume level, full tone or sub tone. Fantastic altissimo for a lower baffle mouthpiece and the intonation is amazingly locked in.
 
Category 2 mouthpieces – All-around, middle category mouthpiece that offer warmth along with brights, and punch. More so than the 1st category mouthpieces.
Option 1: "ROBUSTO" hard rubber – Spread, fat, warm, and punchy with sizzle when pushed. (Think Gene Ammons here.)
I designed the Robusto to be my personal tenor mouthpiece—-and it is. For me, this offers the perfect blend of lows, mids, + highs, and has a rich color palette and wide dynamic range. The sound has a really great classic warmth and brightness available and plenty of punch to it when pushed! This has a timeless "hard bop new york tenor sound" and a modern sound is available from it at the same time. Classic straight ahead sound with more power and punch available than the traditional vintage mouthpieces…and with a nice classic sizzle on top when you want it. Lots of room to let loose with this piece. It offers great body and depth. it's clean and powerful top to bottom with a huge body of sound. Like all my mouthpieces, the sound "opens up" beautifully as you push it. This has a longer baffle than the merlot and the classic model, and the sound is big and fat with much more punch available. The altissimo sing with a fullness on this piece. They do not get thin or edgy for me. This piece is the best all-around straight ahead jazz hard rubber mpc i have ever played. again, I designed it to be my personal tenor mpc—–and it is.  My hard rubber Robusto absolutely smokes the vintage slants, resos, and early babbitt links, for me.
Much more depth, body, and core!
 
Option 2: "SHOWTIME"  hard rubber – Powerful, classic sounding, focussed, open sounding piece with extra punch and a freer blow.
This is much more free blowing than the vintage hr Links, and has much more volume available, better intonation, far more flexibility and versatility, beautiful eveness  in all the registers, and it's simply an incredible all-around player that can do it all from warm  and lush to powerful.
Category 3 mouthpieces – Powerful category mouthpieces
Option 1: "BLACK WIDOW" hard rubber: Powerhouse player, medium height baffle, great cross-over piece for the jazz player looking to be able to comfortably get over to the more rocking' stuff! Not as bright as the Super Widow, but still lots of punch and volume available.
The Black Widow is a powerful "cross-over" moderate height baffle mouthpiece with huge depth and a vibrant core sound, that can be used for all settings from quiet to nasty funk! More powerful and has more brights than my other models. A piece designed for the jazz guys to use easily, and a piece the pop/smooth jazz and funk players will love. It has become clear that many players want a "cross-over" category piece that is different from the other models. Something easily used for jazz stuff and for guys playing commercial pop, blues, smooth jazz, rock, and funk type of stuff too. The Black Widow will be loved by jazz players looking for a powerful piece that can be used for straight ahead stuff+++, and also the more commercial players looking for another design option for a powerful piece with a longer and more moderate baffle height design that isn't overly bright at all.. The baffle goes to the chamber and makes this piece incredibly versatile. This 3rd Category Black Widow mouthpiece has been a super hit so far. A comfortable medium height long baffle piece for the jazz player to use and get more punch and brights with, without it being a high baffle piece.
A beautiful "cross-over" piece for the jazz guys to get into more punchy and powerful stuff, but with a more classic feel in the mouth, and an easy accommodating resistance feel. (Easy blowing with just a slight resistance. Not a ridiculously free Guardala-like blow).

Option 2: "SUPER WIDOW" hard rubber: A much brighter, punchier, more focused, screamer. More powerful than the BW. (Coming out around MARCH, 2019) 
The 10MFAN "Super Widow":
The SW offers contemporary players a very comfortable lower beak, and super colorful choice with more focus, more punch, and more brights than The Black Widow.
The lower beak, flatter and higher baffle will offer metal players who want an option in hard rubber, (who typically play a thinner profile piece), a more traditional feel while being much more comfortable than those "too narrow for me in my mouth pieces", in my opinion.
It will offer the hard rubber players a familiar hard rubber feel with way more enhanced resonance and a very free blowing, cutting sound experience.
Pictures coming in December after the finished versions are made
With all of my mouthpieces, you can make the sound darker, warmer, brighter, or punchier with simple reed brand choices.
REED SUGGESTIONS: Here are some reed suggestions based on my personal experiences.
From warmer to brighter:
Vandoren Blue Box
Hemke                                                                                                                                                                                                                                                                                                                                                        Rico Royal
D'Addario Select Jazz Unfiled
D'Addario Select Jazz Filed
LaVoz
Vandoren Java Red
Legere Signature Series
Vandoren V16                                                                                                                                                                                                                                                                                                                                     Vandoren ZZ
Rigotti
Vandoren Java Green