One of my many goals was to help simplify the mouthpiece madness out there!
To meet my goal of simplifying mouthpiece choices, I have come up with a 3-category system that will take care of the needs of virtually all players. It covers the sound spectrum in a simple yet extremely effective way. I basically wanted a 1st category warm, full-bodied piece with plenty of power, a 2nd category classic all-around "best hard rubber tenor mouthpiece I've ever played"" piece with even more power, body, and punch available than the vintage mouthpieces), and a 3rd category that had more brights than the first 2 category pieces and lushness too. My 3rd model is a piece that was designed for the rock, fusion, blues, smooth jazz players, AND jazz players looking for more power and volume without it getting thin like many high baffle mouthpieces. Thats why I made this a moderate height baffle. It's an incredible mouthpiece.
There is a BIG spectrum of sound and colors within each piece depending on the reed choices and how you blow…..way more than vintage mouthpieces are capable of!
It's important to make sure you have a mouthpiece in the proper category that fits your personal playing needs. I think it's crazy when someone buys a 1940's Tone Master and then puts loads of epoxy in it to make it much brighter and louder. MY SIMPLE ANSWER TO THIS: buy a mouthpiece that is DESIGNED to give you brighter and louder than your Tone Master!
You also need to be aware of the 3 categories when comparing different mouthpieces if you are looking for one of mine in the same category or different category than yours. Example—you're comparing apples to oranges if you compare a Vandoren Jumbo Java to a vintage Slant. The 50's/60's Slants are innately warm, full sounding players and would be in my 1st category. Same with a Reso Chamber, Broadus, Selmer hard rubbers, Dukoff Fluted Chambers, Lamberson J model, Freddie Gregory Mark II hard rubbers, etc,…The Jumbo Java is designed to be a very powerful mouthpiece and would best fit my 3rd category with pieces such as the RPC  high baffle , Bergs with a "0" or "1" baffle height, Lamberson SB's and DD's and pieces like that. Examples of mouthpieces that would fit in my 2nd category are the Early Babbitt hard rubbers, some modern day Slant and Early Babbitt copies made to project more than the originals, Meyer Bros, Freddie Gregory Mark IV hard rubbers, RPC lower baffle model, Lamberson L model, and various copies of these types of pieces, etc… I can't write down every mouthpiece ever made and which category they fit in, but I am sure you can see where I'm going with this and how I am breaking up the categories. I compare hard rubber pieces to other hard rubbers that are in the same categories. This makes mouthpiece choices much easier, and is one of the big reasons I love my 3-category system. It simplifies the choices, focuses on SOUND/DESIGN, and compares apples to apples.
I've made it simple for you. Just read my descriptions of each category below, and listen to the recordings below that to help decide what BEST FITS YOUR NEEDS AS A PLAYER.
CATEGORY 1 MOUTHPIECE:
MY 3 CATEGORIES:
CATEGORY 1 MOUTHPIECES: I HAVE 2 MODELS HERE TO OFFER PLAYERS. ONE IS A SPREAD SOUND,(THE MERLOT), AND THE OTHER IS A FOCUSSED SOUND,(THE CLASSIC). THIS ALLOWS THE PLAYER AN EASY CHOICE FOR THIS CATEGORY.
"MERLOT" HARD RUBBER: WARM, OPEN, AND SPREAD SOUND THAT YOU FEEL FROM EAR TO EAR WHEN YOU'RE PLAYING.
RICH, FULL-BODIED PIECE WITH PURITY, POWER, CLARITY, AND DEPTH
INCREDIBLE BLUE NOTE ERA SOUND OF THE 50'S AND 60'S AND A MORE MODERN SOUND IS AVAILABLE FROM IT AT THE SAME TIME FOR THE PLAYERS WHO CAN BLOW BRIGHTER!
FOR MODERN GUYS THAT HAVE THE MERLOT VIBE: THINK BERGONZI, FRAHM, POTTER, MINTZER, SEAMUS BLAKE, MARK TURNER, ETC….. YOU CAN ALSO GET A STEVE GROSSMAN OR BOB BERG VIBE FROM IT TOO, IF YOU HAVE THOSE GUYS IN YOUR HEAD. I WANTED A WARM, FULL SOUNDING SPREAD PIECE THAT WASN'T STUFFY AT ALL. THIS HAS A BEAUTIFUL CORE SOUND AND IS INCREDIBLY FLEXIBLE WITH ALL THE SOUND SPECTRUM IT CAN OFFER! ITS A WARM, OPEN MOUTHPIECE. IT DOES NOT HAVE THE TUBBINESS OR STUFFINESS OFTEN ASSOCIATED WITH HARD RUBBER VINTAGE MOUTHPIECES! I MADE THIS TO SOUND WARM YET WITH PLENTY OF WARM POWER WHEN YOU PUSH IT.
I WANTED TO MAKE A WARM PLAYING TENOR MOUTHPIECE THAT DIDN'T SOUND JUST LIKE A 60's SLANT, BUT DOES EVERYTHING THEY CAN DO, AND MUCH MORE. MY PIECES DON'T PUT YOU IN A "SOUND CORNER" AND MAKE YOU SOUND ONE-WAY. MINE OFFER WAY MORE FLEXIBILITY, DEPTH, AND CLARITY TO THE SOUND. JOEL FRAHM IS AS PICKY AS THEY COME FOR ACHIEVING THE PERFECT SOUND FOR HIMSELF, AND HE HAS GIGGED ON AND RECORDED WITH MY MERLOT AND ROBUSTO HARD RUBBER MODELS FOR OVER 4 YEARS NOW. THE SOUND CAN BE VERY CLEAN OR FLUFFY DEPENDING ON HOW YOU WANT TO PLAY IT. THE HIGH END RELEASES THE SOUND AND DOESN'T MAKE YOU SOUND AIRY OR TUBBY ON THE PALM KEYS. YOU CAN MAKE IT SOUND LIKE THAT, BUT IT WON'T DICTATE THAT ON ITS OWN. THIS PIECE DOES NOT MAKE YOU PLAY "ONE WAY" OR PUT YOU IN A SOUND CORNER LIKE THE VINTAGE MOUTHPIECES. YOU CAN EASILY GO FROM STAN GETZ TO JOEL FRAHM TO BOB BERG WITH THIS PIECE. LIKE A FINE WINE, YOU WILL DISCOVER THAT THIS PIECE WILL CONTINUE TO GET BETTER AND BETTER FOR YOU WITH TIME!
THE MERLOT HAS LESS HIGHS AND PUNCH THAN THE ROBUSTO MODEL.
"THE CLASSIC" HARD RUBBER: WARM, FOCUSSED, DEEP SOUND THAT IS IN FRONT OF YOU, AND IS EXTREMELY EVEN WITH THE SCALE FROM TOP TO BOTTOM.
THIS PIECE IS AMAZING! ABSOLUTELY KILLS THE SLANTS, RESOS, AND WARM CATEGORY VINTAGE PIECES LIKE THAT, WITH A VERY EVEN TIMBER AND A HUGE RICH CORE. IT IS FOCUSSED, SO YOU FEEL THE SOUND RIGHT IN FRONT OF YOU, AND IT PROJECTS LIKE CRAZY OUT TO THE AUDIENCE. TONS OF WARM POWER HERE.
THE CLASSIC IS WARMER THAN THE ROBUSTO MODEL.
CATEGORY 2 MOUTHPIECE:
"ROBUSTO" HARD RUBBER: FOR ME, THIS IS GREATEST ALL-AROUND HARD RUBBER JAZZ MOUTHPIECE I'VE EVER PLAYED
FOR ME, THIS IS HARD RUBBER PERFECTION!
THIS WAS DESIGNED TO HAVE A WARM AND PUNCHY SPREAD SOUND….ALA MY HERO AND INSPIRATION FOR THIS MOUTHPIECE…GENE AMMONS!
I DESIGNED IT TO BE MY PERSONAL TENOR MOUTHPIECE—-AND IT IS. FOR ME, THIS OFFERS THE PERFECT BLEND OF LOWS, MIDS, + HIGHS, AND HAS A RICH COLOR PALETTE AND WIDE DYNAMIC RANGE. THE SOUND HAS A REALLY GREAT CLASSIC WARMTH AND BRIGHTNESS AVAILABLE AND PLENTY OF PUNCH TO IT WHEN PUSHED! THIS HAS A TIMELESS "HARD BOP NY TENOR SOUND" AND A MODERN SOUND IS AVAILABLE FROM IT AT THE SAME TIME. CLASSIC STRAIGHT AHEAD SOUND WITH MORE POWER AND PUNCH AVAILABLE THAN THE TRADITIONAL VINTAGE MOUTHPIECES…AND WITH A NICE CLASSIC SIZZLE ON TOP WHEN YOU WANT IT. LOTS OF ROOM TO LET LOOSE WITH THIS PIECE. IT OFFERS GREAT BODY AND DEPTH. IT'S CLEAN AND POWERFUL TOP TO BOTTOM WITH A HUGE BODY OF SOUND. LIKE ALL MY MOUTHPIECES, THE SOUND "OPENS UP" BEAUTIFULLY AS YOU PUSH IT. THIS HAS A LONGER BAFFLE THAN THE MERLOT AND THE CLASSIC MODEL,AND THE SOUND IS BIG AND FAT WITH MUCH MORE PUNCH AVAILABLE. THE ALTISSIMO SING WITH A FULLNESS ON THIS PIECE. THEY DO NOT GET THIN OR EDGY FOR ME. THIS PIECE IS THE BEST ALL-AROUND STRAIGHT AHEAD JAZZ HARD RUBBER MPC I HAVE EVER PLAYED. AGAIN, I DESIGNED IT TO BE MY PERSONAL TENOR MPC—–AND IT IS. MY SEARCH FOR THE PERFECT MOUTHPIECE HAS ENDED HERE. PHAROAH SANDERS, JOEL FRAHM, JERRY BERGONZI, JAN GARBAREK, ARNIE KRAKOWSKY, DAVID MANN, MAX IONATA, DOUG WEBB, IVAN RENTA, DAVE O'HIGGINS, EMANUELE CISI, KEN GIOFFRE, HERVE LETOR, THIAGO FERTE, ANTOINE RONEY, JEFF ELWOOD, AND SO MANY OTHERS ARE JUST A FEW OF THE GUYS THAT YOU MAY HAVE SEEN PLAYING ON MY ROBUSTO MODEL– AND EACH GETTING THEIR OWN PERSONAL SOUNDS FROM THAT SAME MOUTHPIECE MODEL.
FINALLY, MOUTHPIECES THAT CAN GET BOTH THE VINTAGE VIBE AND MODERN VIBE!
MY HARD RUBBER ROBUSTO ABSOLUTELY SMOKES THE VINTAGE SLANTS AND EARLY BABBITT LINKS FOR ME.
MUCH MORE DEPTH, WIDTH, AND BODY!
CATEGORY 3 MOUTHPIECE:
"BLACK WIDOW": Powerful "cross-over" moderate height baffle mouthpiece with huge depth and a vibrant core sound, that can be used for all settings from quiet to nasty funk! It crosses over the jazz world to the pop world, in what its capable of doing.
More powerful and has more brights than my other models.
A piece the jazz guys can use easily, and the pop/smooth jazz and funk players love.
It has become clear that many players want a "cross-over" category piece that is different from the other models. Something easily used for jazz stuff AND for guys playing commercial pop, blues, smooth jazz, rock, and funk type of stuff too.
The BLACK WIDOW will be loved by jazz players looking for a powerful piece that can be used for straight ahead stuff+++, and also the more commercial players looking for another design option for a powerful piece with a longer and more moderate baffle height design. The baffle goes to the chamber and makes this piece incredibly versatile.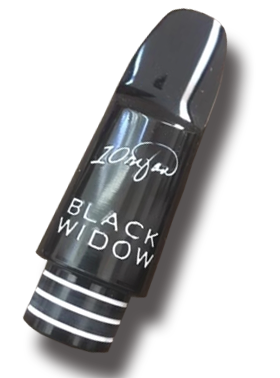 CATEGORY 3 METAL MOUTHPIECE:
"THE BOSS": SUPER POWERFUL HIGH BAFFLE  MOUTHPIECE THAT'S FULL BODIED AND VIBRANT WITH DEPTH, CLARITY, AND PUNCH
I HAVEN'T LEFT OUT THOSE WHO WANT TO LET LOOSE! THIS PIECE IS DESIGNED TO ACCOMMODATE THOSE LOOKING FOR GREAT POWER WITH FULLNESS, BODY, VIBRANCY, DEPTH, AND CLARITY— TOP TO BOTTOM!
THIS MOUTHPIECE CAN BE PLAYED WITH A HUGE, MEATY, FAT, POWERFUL CORE SOUND ALL THE WAY TO A VERY BRIGHT AND POWERFUL SOUND DEPENDING ON HOW YOU PLAY— WITHOUT SACRIFICING A DEEP RICH CORE AND VERY COMPLEX CENTER.
IF YOU ARE A PLAYER WHO BLOWS DARKER:
THE SOUND WILL BE VERY POWERFUL, THICK, RICH, HUSKY YET PUNCHY, AND MEATY WITH TONS OF POWER TOP TO BOTTOM.
IF YOU ARE A PLAYER WHO BLOWS BRIGHTER: THIS WILL BE A VERY POWERFUL, BRIGHT METAL MOUTHPIECE FOR YOU— YET IT IS SUPER FLEXIBLE IN WHAT IT CAN DO. THE MULTI-PHONICS AND ALTISSIMO ARE TRULY INCREDIBLE. THIS MOUTHPIECE CAN BE PLAYED QUIETLY AND RETAINS A HUGE, FAT TONE, AND HAS THE AVAILABILITY OF EXCEPTIONAL POWER THROUGHOUT THE RANGES. IF YOU'VE HAD BAD LUCK WITH HIGHER BAFFLE PIECES IN THE PAST, ALLOW ME TO SHOW YOU HOW GREAT THIS CAN BE WHEN EXECUTED PROPERLY. THIS DOESNT FEEL LIKE A HIGH BAFFLE PIECE TO ME. I'VE HAD FRIENDS PLAY IT AND THEY ARE AMAZED AT HOW THE AIR GOES THROUGH IT. THEY AGREED IT DOESN'T FEEL LIKE A TYPICAL HIGH BAFFLE TO THEM EITHER. IT HAS ENORMOUS DEPTH AND FLEXIBILITY.
tHIS PIECE IS VERY FREE BLOWING AND IF YOU HAVE ENJOYED GUARDALAS, PONZOLS, DUKOFF SUPER POWER CHAMBERS, JODY DV'S, DURGAS, ETC….I MADE SURE THAT WHAT I FOUND TO BE MISSING FROM THOSE PIECES, WAS REMEDIED HERE, AND THATS WHAT THE BOSS IS.
SPECIAL NOTE:
I RECOMMEND YOU GO UP IN TIP SIZE FROM WHAT YOU NORMALLY PLAY ON. YOU CAN GO FROM YOUR 7* TO MY BOSS 8 OR 8* WITHOUT ANY ISSUES WHATSOEVER. IT WILL BE EVEN BETTER WITH THE BOSS METAL! THIS PIECE IS A BEAST!!! THE BAFFLE IS HIGH BUT NOT OVERLY LONG, SO THAT THERE ARE PLENTY OF LOW'S AND MID'S IN THE SOUND ALONG WITH THE HIGH'S. THIS MOUTHPIECE IS APPROPRIATELY NAMED "THE BOSS".
*A HIGH BAFFLE METAL MOUTHPIECE THAT CAN BE PLAYED WARMER OR BRIGHT WITH LOTS OF POWER DEPENDING
ON THE PLAYER, REED CHOICE, ETC…
*A HIGH BAFFLE METAL MOUTHPIECE THAT CAN GET SULTRY AND STAY FULL-BODIED WHEN PLAYED QUIETLY.
*A HIGH BAFFLE METAL MOUTHPIECE THAT CAN GET A VERY PUNCHY BRIGHT SOUND FOR POP STUFF, OR A FULL-BODIED SOUND WITH LOADS OF POWER THAT CAN BE USED FOR POWERFUL STRAIGHT AHEAD PLAYING AS WELL.
*A HIGH BAFFLE MOUTHPIECE LIKE NO OTHER I HAVE PLAYED. I DESIGNED THIS TO DO WHAT THE OTHER HIGH BAFFLE MOUTHPIECES DON;T DO FOR ME!!!!
****** A COUPLE SIMPLE OPTIONS FOR HIGH BAFFLE MOUTHPIECES ******
I recommend players use the same size in my Boss as they use with their high baffle piece, or you can certainly go a half size without any worry at all.
If you play a medium baffle piece, I recommend you go up 1 size for my high baffle mouthpiece.There are many options. You have choices and as I recommend with everything, just adjust your reed strength accordingly. YOU CAN READ MORE ABOUT THAT WHERE I TALK ABOUT REEDS HERE ON THE WEBSITE.
YOUTUBE EXAMPLES OF MY 3 CATEGORIES:
BELOW ARE EXAMPLES OF RECORDINGS OF SOME PLAYERS SOUNDS THAT FIT EXTREMELY WELL IN EACH OF MY CATEGORIES. THEIR "STYLES" ARE DIFFERENT, BUT THEIR SOUNDS FIT NICELY SHOWING THE FLEXIBILITY WITHIN EACH CATEGORY. THESE EXAMPLES ARE ALL ON YOUTUBE FOR YOU TO LISTEN TO AND BETTER UNDERSTAND WHERE I'M COMING FROM WITH EACH OF MY MOUTHPIECE CHOICES:
For the Category 1 "MERLOT" mouthpiece think: 
Hank Mobley on SOUL STATION 1960
Chris Potter LIFT! LIVE AT THE VILLAGE VANGUARD 2002
Stan Getz with Gerry Mulligan LET'S FALL IN LOVE 1958
Josh Redman MOOSE THE MOOCHE from WISH 1993
Mark Turner SKYLARK from BALLAD SESSION 2000
Scott Hamilton on TENOR SHOES 1993
Joel Frahm and Brad Mehldau—-AWAY FROM HOME 2004
Dexter Gordon I'M A FOOL TO WANT YOU 1965
Sonny Rollins ALMOST LIKE BEING IN LOVE 1953
Seamus Blake BODY AND SOUL live in Virginia 2010
George Garzone AMONG FRIENDS 2009
Jerry Bergonzi with Dave Santoro ON GREEN DOLPHIN ST. 2007
Zoot Sims YOU GO TO MY HEAD 1961
Josh Redman THE PASSAGE OF TIME
Sonny Stitt I WANT TO BE HAPPY 1950
Richie Kamuca EARLY BIRD 1957
Harry Allen CHELSEA BRIDGE live 2008
Al Cohn SUDDENLY ITS SPRING 1954
Ken Peplowski THE SHADOW OF YOUR SMILE 2006
The Category 1 "MERLOT" mouthpiece is designed to give you the warmth, richness, width, and colors that these players possess—with lots of power available.
For the Category 2 "ROBUSTO" mouthpiece think:
Dexter Gordon on GO 1962
Gene Ammons on BOSS TENORS with Sonny Stitt 1960
Sonny Rollins WAY OUT WEST 1957
Johnny Griffin THE WAY YOU LOOK TONIGHT 1956
Chris Potter with Joe Lovano "FOUR" live
Josh Redman Quartet STRAIGHT AHEAD 1994
Seamus Blake THE FEELING OF JAZZ 2009
George Garzone FOUR'S AND TWO'S, FOUR'S AND TWO'S 1996
Booker Ervin GROOVIN HIGH from 1964
John Coltrane BLUE TRAIN 1957
Dexter Gordon LADYBIRD live 1964
Al Cohn I WANT TO BE HAPPY 1989
Brian Scanlon Big Phat Band CUT 'N' RUN
Frank Foster Quintet THE HEAT'S ON 1954
Sonny Rollins STRODE RODE from Saxophone Colossus 1956
If you dig a classic straight ahead sound with power, punch and sizzle on top—you'll love my category 2 "ROBUSTO" mouthpiece.
For the Category 3 "THE BOSS" mouthpiece think:
Michael Brecker (Brecker Bros) STRAPHANGIN' 1980
Sonny Rollins ALFIES THEME 1973
Stanley Turrentine SUGAR live with Sanborn 1989
Pharaoh Sanders HEART IS A MELODY OF TIME 1983
Gene Ammons with Stitt BYE BYE BLACKBIRD 1962
Red Holloway and Plas Johnson PASS THE GRAVY 2001
Josh Redman with The Rolling Stones WAITING ON A FRIEND live 1997
James Carter–JOSHUA REDMAN VS. JAMES CARTER CARNEGIE HALL
Willis Jackson BAR WARS 1977
Ken Gioffre LIVIU POP
Lenny Pickett with Tower of Power BELIEVE IT 1990
Ed Calle DOUBLE TALK 1996
Bob Berg BACK ROADS live 1992, or JIGSAW, IN THE SHADOWS
Chris Potter MEGALOPOLIS 2008
Euge Groove S7ven Large—LIVE IN LONDON 2011
Red Prysock HIDE AWAY 1962
Eddie Daniels SLAM DUNK 1993
Kirk Whalum YOU ARE EVERYTHING
Eddie "Lockjaw" Davis SKILLET from 1958
If you blow darker and love a rich, deep, full bodied, meaty sound with loads of power and want to have some brightness…or if you are a brighter player and love a ton of power with lots of brightness and cut available–you'll love my Category 3 "THE BOSS" mouthpiece.
When designing "THE BOSS" mouthpiece, I wanted powerful, rich, meaty, and thick sounding for those who blow dark, and a brighter, powerful piece with lots of cut available for those who blow bright. I did NOT want a powerful piece that was thin, brash, and small chambered that puts body, depth of sound, and tone 2nd to volume.
When Brian Powell heard "THE BOSS" he said, "That's the MANLIEST sounding tenor piece I've ever heard…Now THAT'S what a tenor should sound like!"
THE GREAT NEWS IS THAT ALL 3 MOUTHPIECES ARE COMPLETELY DIFFERENT. THEY EACH STAND PROUDLY ON THEIR OWN AND FIT BEAUTIFULLY INTO THE 3-CATEGORY SYSTEM PROGRESSION I'VE SET UP.
SOUND, FEEL, BALANCE, AND DESIGN are in the forefront for me.