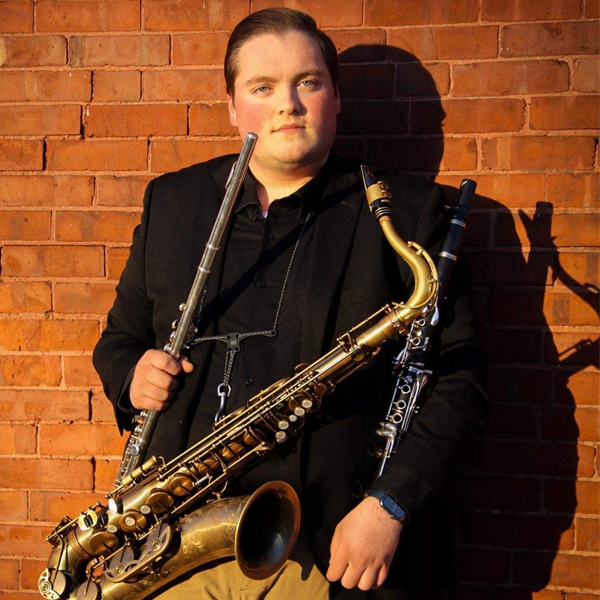 Bailey Giles is currently attending the University of Southern Maine in pursuit of a degree in Saxophone Performance with a concentration in jazz studies. Before his college years, Bailey grew up in Newburgh, Maine where he went graduated from Hampden Academy in 2017.
At USM, Bailey has performed with University Ensembles such as the jazz ensemble, multiple faculty lead jazz combos, the University concert band and a faculty lead vocal jazz group.
Throughout his years of performing, Bailey has been under the study of a number of different musicians. Bailey is a saxophone student of Barry Saunders and David Wells. In addition to studying saxophone, Bailey also works diligently on secondary instruments that further his craft. He works to keep up his piano playing and compositional techniques acquired from studying with USM faculty Chris Klaxton. In addition to piano, he regularly doubles on clarinet and flute in the jazz setting.
Bailey has a full schedule of music in and outside of the classroom. He can be found performing with many different projects and ensembles of all sorts including the Portland Jazz Orchestra, the Twisted Swing Big Band, Yeahman and many other artist lead small groups. Bailey and the groups he plays with can be seen around the Maine and New Hampshire region of New England. He has had the privilege to play at notable venues such as Blue, Collins Center for the Arts, The Stone Mountain Arts Center, One Longfellow Square and more.
Although performing is his area of study, Bailey also has a reputable name in the world of teaching as well. He has worked with kids as young as second graders, and as old as high schoolers. He gives private one on one lessons, as well as group work with school ensembles. Bailey has students from all over Maine, but spends most of his time working at 317 Main giving individual saxophone lessons to younger students from the surrounding area.