THE 10MFAN "OCTAGON SERIES"
3-D printed, hand-finished saxophone mouthpieces
🛑🛑🛑
The most revolutionary saxophone mouthpiece chamber design in the marketplace!
I am BEYOND proud and excited to finally announce the brand new revolutionary design 10mfan "Octagon Series" to all of you!
I have been passionately working on this concept design for a long time, and I am so thrilled to be able to finally release it to the public.
If you know anything about mouthpiece design, most of the magic happens at the chamber!!!
That's why all of my German barstock 10MFAN hard rubber mouthpieces play different than any of the vintage mouthpieces. They don't blow like a Link or a Berg or a Meyer or anything, because of the internal designs, including the chambers. They may not appear super different to you, to your eye, but there's a lot going on there. 😃…. and that's why the pieces sound and blow like 10MFAN mouthpieces, and NOTHING else.
I wanted to take that further with these 3-D printed pieces, and actually do a super unique chamber design with a totally different shape, size, and added "chamber panels", that have never been attempted before in the mouthpiece world.
These are 3-D printed mouthpieces using state of the art 3-D technology and design. We use 100% infill with the mouthpieces for ultimate stability…NO shortcuts!
The mouthpieces are NOT super lightweight like other 3-D mouthpieces. These mouthpieces have weight, a truly unique octagon chamber with "chamber panels " all around on the inside of the chamber, and are 100% infill, so they are stable. This proprietary design concept has never been done in the mouthpiece world, and it continues to carry on with my 10MFAN design commitment to innovation over imitation.
I have tried many different shapes with the chambers and the octagon chamber was a dream come true. Those of us who got to try these designs here with both a normal round chamber and octagon chamber felt the same exact way too. The octagon chamber with "chamber panels" sounded phenomenal with added clarity and speed. The totally unique chamber and chamber panels give the throat a squeeze like nothing else in the marketplace, ever before. The combination of the sound bouncing off of the "chamber panels", how the air interacts with the chamber, the size and shape of the chamber, the totally unique "squeeze" throat.
I design mouthpieces and I know when something plays great and when the designs work great…..and these two pieces both play great and the designs work fantastic!!!!
I've tried a ton of different chamber designs, one being this octagon design with the chamber panels, and this one played the best….THAT'S IT!
When Brian worked on the first pieces, he called me up and said he loves the clarity and the blow.
I've been wanting to make this announcement for so long and finally the first two pieces are being made as we speak.
There is one alto model and one tenor model to start.
MANY more ORIGINAL DESIGN models coming over time.
THERE ARE 2 MODELS TO BEGIN WITH, AND THIS IS THE CONCEPT FOR THE FIRST ALTO AND TENOR MOUTHPIECES:
"FULL, POWERFUL, CLASSIC SOUNDING, AND FOCUSSED…. KEEPING THE SOUND RIGHT IN FRONT OF THE PLAYER".
I have had a lot of requests from players, to put out something thats got "a real focus" where the sound is directly in front of you without getting spread.
So I have decided to start with that concept for these first 2 mouthpieces.
Here are the first two models:
ALTO MODEL: "FIREBALL"
An absolutely killer lead alto mouthpiece for the modern player! The vintage Meyer alto guys will go crazy for this piece, because it is a great lead alto mouthpiece with a rollover baffle that has that classic alto sound… but with extra punch, some nice brights available, and great altissimo. It is focussed and not intended to be a fatter, more spread sounding alto piece. The sound of this piece will go straight to the back of the room!
For those of you on Meyer-style pieces, who want a little more focus and power, you will love how this piece plays. It's got a ton of depth and color, a solid core, and it stays incredibly stable even as you push it to the extremes. A rock-solid core and very balanced sound. It's so much fun to play!
The vintage Meyer and Brilhart players will LOVE this, but it's going to please players who are using a TON of different alto mouthpieces.
I will put out a fatter sounding alto piece in the near future. This "FIREBALL" mouthpiece is meant to be focused and powerful with a lower rollover baffle. It just plays great!
TENOR MODEL: "CABERNET"
This mouthpiece was designed for a killer straight ahead classic tenor sound, with lots of warmth, really good power, nice resistance to push against, and FOCUS. Because of that focus, the intonation is locked in. If you want less resistance, just go to a softer reed.
Think Bob Berg, Pharoah Sanders, Coltrane, focus! It's incredibly heartwarming to be able to put out this piece because it is so different from all my 10MFAN hard rubber mouthpieces. This piece will have more focus like a vintage metal Link…. and for me, more power and body available.
There are lots of fat sounding tenor pieces out there, and my hard rubber 10MFAN mouthpieces certainly fit in that category, but I've been asked by many players over the years to put out something that has much more focus, where the sound stays right in front of the player, and doesn't get spread…..but still with a really big sound available when you want it!
So here it is!!!!!
This is a very resonant 3-D printed tenor mouthpiece.
The Cabernet has resonance, fullness, focus, and  power. It won't be as wide sounding as a Slant or a Reso Chamber, because that's NOT what I wanted here. I wanted more focus with this piece, but also really good power. This is different from anything I've put out, and I'm very excited about it. This piece has a low rollover baffle that allows for so much beauty in the sound, but still with plenty of presence and  sparkle to carry that beautiful, rich classic tenor sound.
The vintage Link players who wish their sound had more focus to it rather than spread, will LOVE this piece. This mouthpiece is going to please players who are using a whole TON of different straight ahead tenor mouthpieces. This piece just KILLS! Just listen to the videos that continue to come in, that I am putting up on my website. You can hear for yourself how the peace sounds.
I will be adding to the 10MFAN Octagon Series with many different models, and they will ALL have the octagon chambers with chamber panels.
The most fun part for me is that all of these 3-D printed pieces will be different designs than my German barstock hard rubber designs. It just allows me to try so many new and exciting ideas I've wanted to experiment with. We have the technology and ability today to go beyond vintage designs with current mouthpiece making. I will continue with that commitment with my 3-D printed Octagon Series mouthpieces. The nice thing is, with different designs. I can adjust the size of the chamber accordingly. When I make a fatter, sounding alto and tenor mouthpiece, the size of the octagon chamber will increase. This is just so much fun for someone who geeks out on this stuff! 😜😜😜
BAFFLES:
I'm going to make all rollover baffle designs for everyone to enjoy. I know a lot of players don't like step baffles, so I am staying away from those with the Octagon Series. If you are a powerful player, I will be putting out pieces you will love, but they will be rollover baffle designs that will appeal to everyone. The designs of these mouthpieces are so unique on the outside and inside and I can't wait for you to see the way the sidewalls and floor go into the chamber with the "chamber panels". It's never been done before in the mouthpiece world, and these two models are just INCREDIBLE, and I could not be happier! These models were designed for something very specific, and I am so incredibly proud of both of these ORIGINAL DESIGNS!!!
DESIGNS:
The design of the outside and inside of the mouthpieces are completely original. They have a very modern look to them.
If you like vintage mouthpiece copies, there are dozens of those for you to choose from.
As always, here at 10MFAN mouthpieces, I am not interested in making copies of the vintage pieces. I want to offer today's players modern, fresh, and unique mouthpiece design options to choose from, beyond what we've seen with the vintage mouthpieces.
With these two pieces I had a specific goal in mind for both, and I've achieved that! I do that with all of my mouthpieces. I design for sound.
A lot of straight ahead mouthpieces being made today don't have the right amount of resistance for a lot of players, and they miss the color and flexibility that comes from having just the right amount to push against.
HAND FINISHING:
Hand finishing is VERY VERY VERY important to me! 3-D printed pieces often do not have flat tables or proper facing curves without being hand finished. The great Brian Powell and Erik Greiffenhagen do all of the hand finishing for my current 10MFAN mouthpieces, and that will continue with the Octagon Series. The tables will be flat and the facing curves will measure properly. On 3-D printed mouthpieces, you will see the lines of filament because that's how they are built. These pieces aren't polished or painted. They are matte black, and the rails and tables and baffles are perfect.
I am telling everyone to PLEASE ALWAYS USE A TOOTH PATCH.
SOUND:
The problem with many 3-D printed mouthpieces, is they just don't have the resonance that I want as a player, and many sound so thin and one-dimensional. I tried a ton of different material options, baffles, chambers, floor heights, and a bunch of other variables to make sure the Octagon Series had that depth and resonance we seek as players. I am proud to say I've achieved that with these designs. The sound is rich, resonant, and has tons of depth and color. There will be a proper balance of low's, mid's, and high's in each model, according to the desired goal that I am reaching for.
TIP SIZES:
ALTO:
5—–.072
6—- .078
7—- .084
8—- .090
TENOR:
6*—– .095
7 ——- .100
7*—– .105
8 ——- .110
8*—— .115
9*——— .125
LIGATURES:
The Octagon Series will use standard ligatures, so the choices will be over abundant for all the players out there.
The alto piece will use ligatures that fit hr Meyer-type pieces, and the tenor piece will use ligatures that fit hr Link-type pieces.
NEW MODELS IN THE WORKS:
I am already working on new designs, and other models will be released over time
COLORS:
All of these Octagon Series mouthpieces will be matte black in color. They are not polished and painted like my hard rubber mouthpieces. At some point, I may release a limited edition color, just for fun.
PRICE:
So let's get to the price. I have heard from tons of players that they wish I had some mouthpieces to offer that would be less than my $450 hard rubber mouthpieces. Using 3-D printing allows me to accomplish this for all of you. Engineering the Octagon Series, and all the time and effort involved in this, has been quite an expense, but 3-D printing itself is not an incredible expense. This allows me to offer the Octagon Series at a lower price, so that players all over the world can get into them comfortably.
These hand finished, original design, innovative 3-D printed mouthpieces will be priced at $249 plus shipping.
I've been waiting for this day to come for a very long time, so now is your chance to get on the pre-order list and the first batch of mouthpieces will be sent out at the beginning of September. The process to make the Octagon Series is time consuming so please be patient and understanding of that. I only believe in putting out the best possible mouthpieces that are hand-finished by the top hand finishers. That takes a little time, and quality is always worth it!
I will not have any recordings to put up until the pieces are printed and sent out to players to make videos. Hang in there for those, they will be coming next month.
I truly believe these to be the best value in the mouthpiece world. All original designs, hand-finished by the best in the business, available at an incredibly low price. Best of all, these mouthpieces play FANTASTIC I am truly proud of my 10mfan Octagon Series and can't wait for players to get theirs!
Sincerely, Mark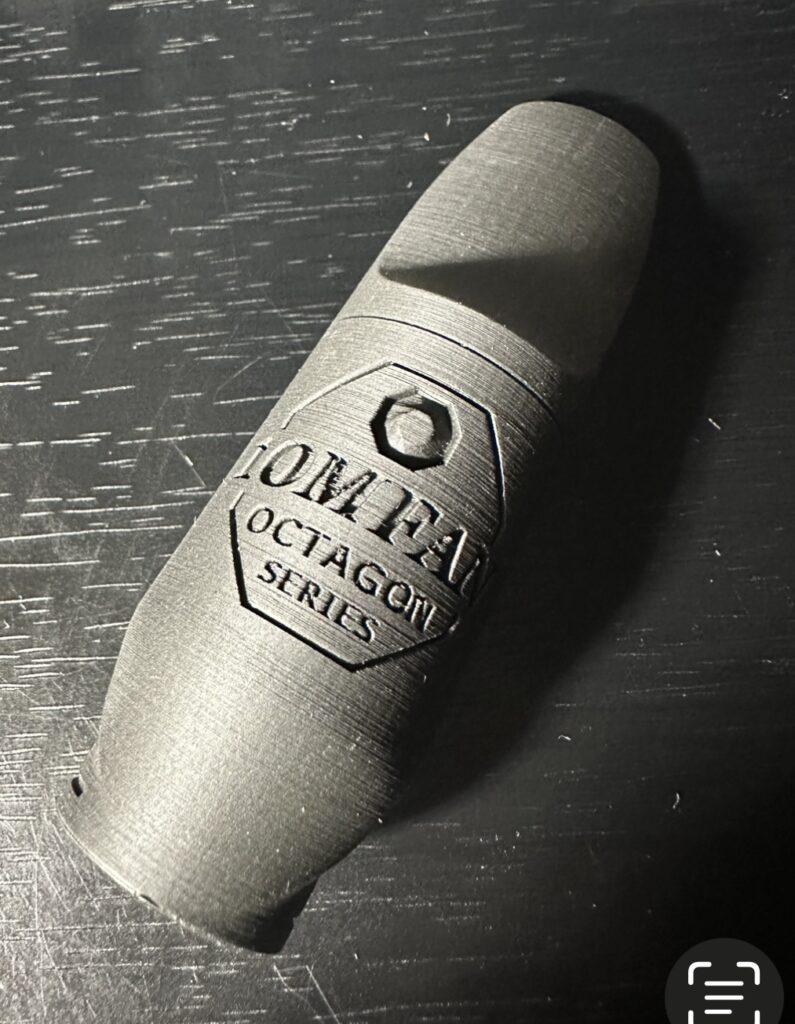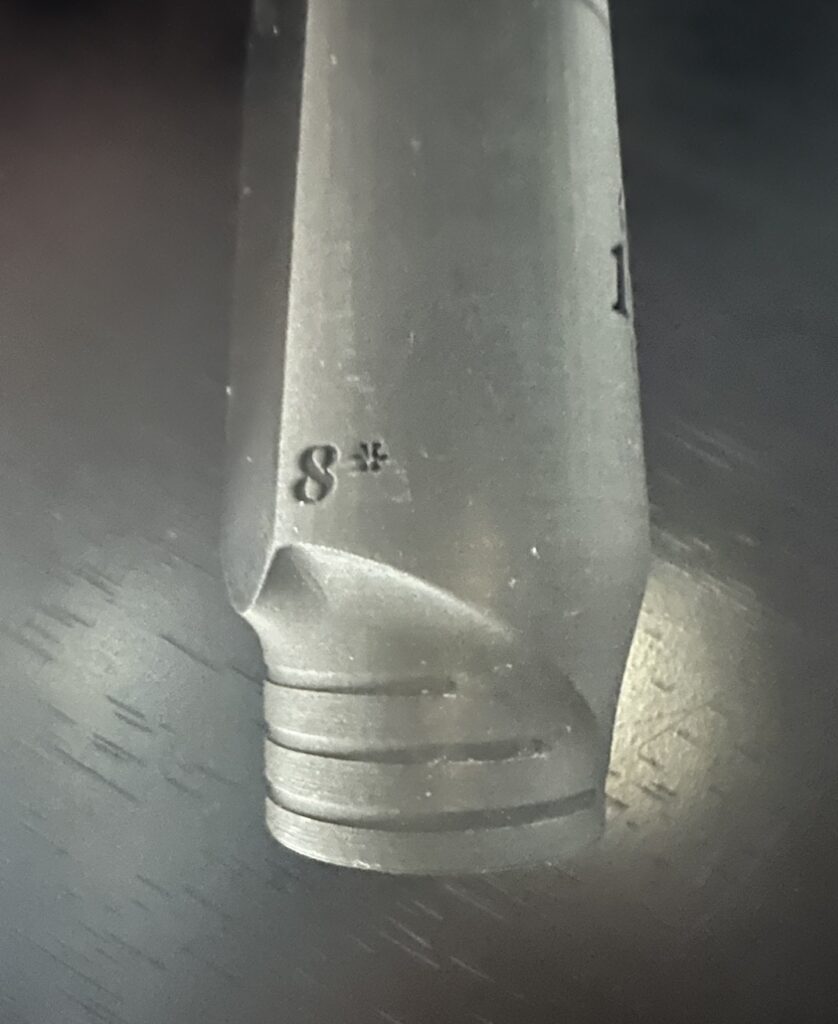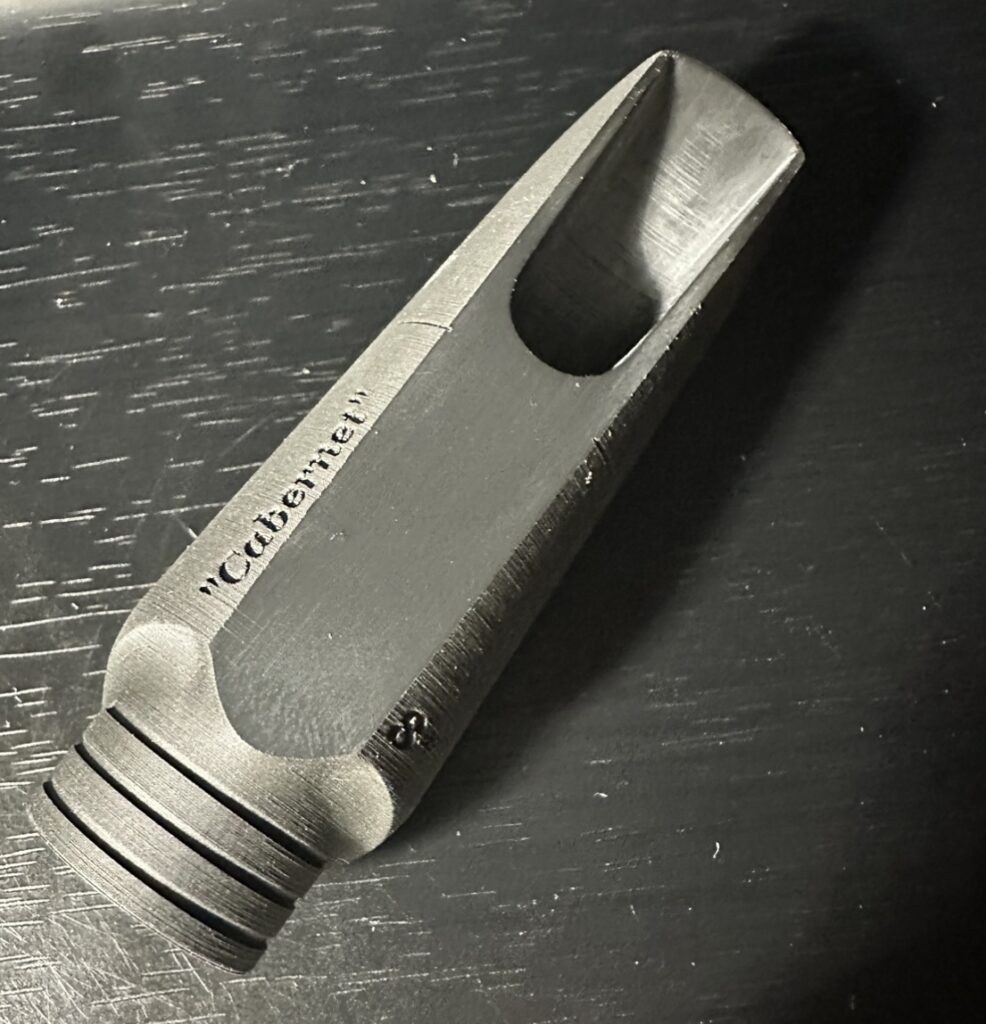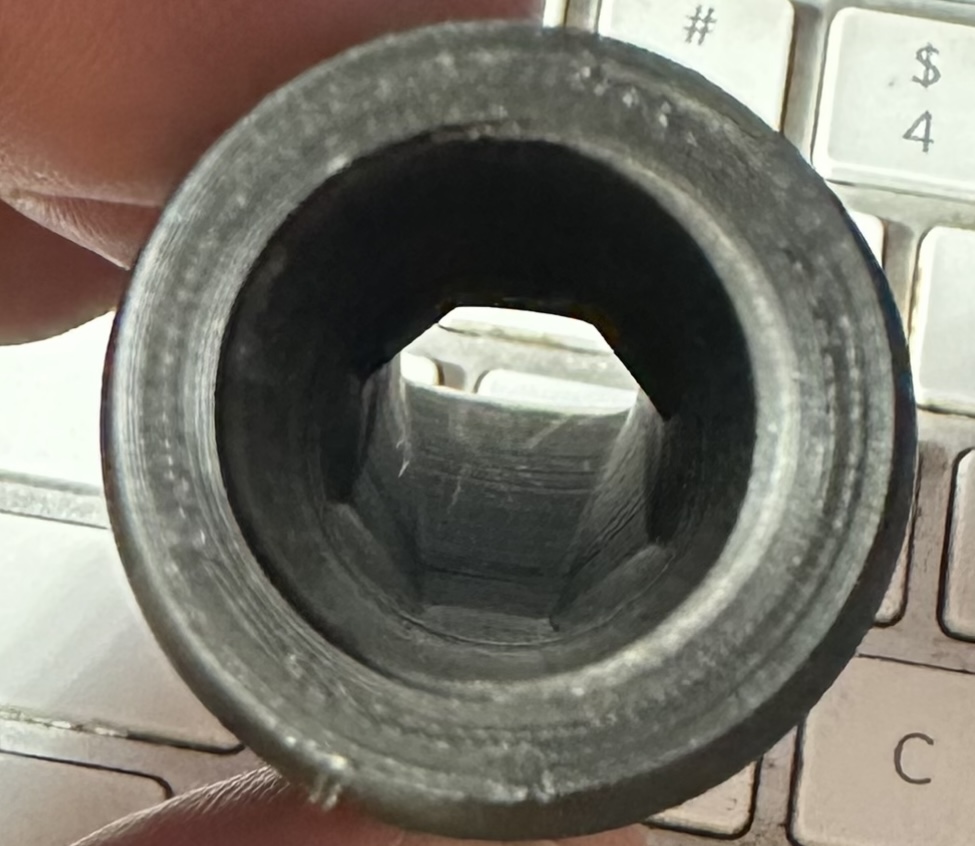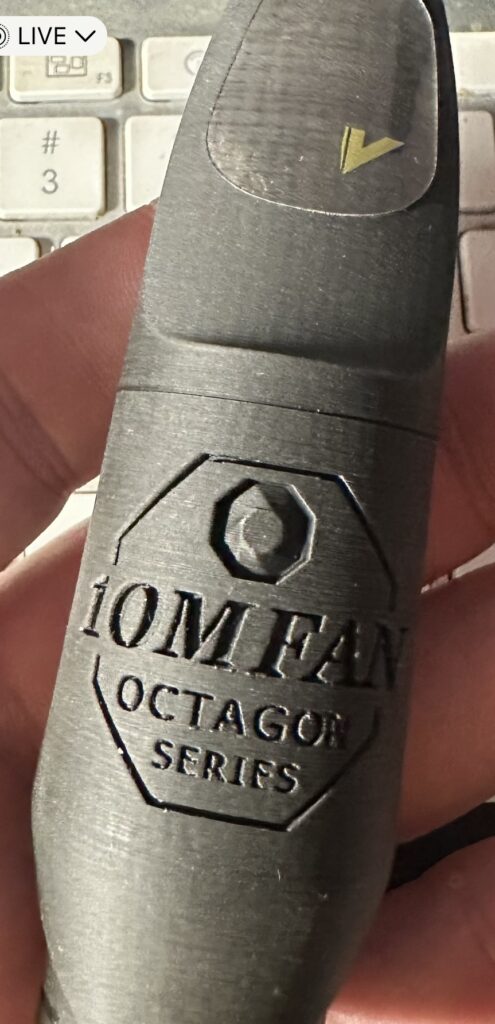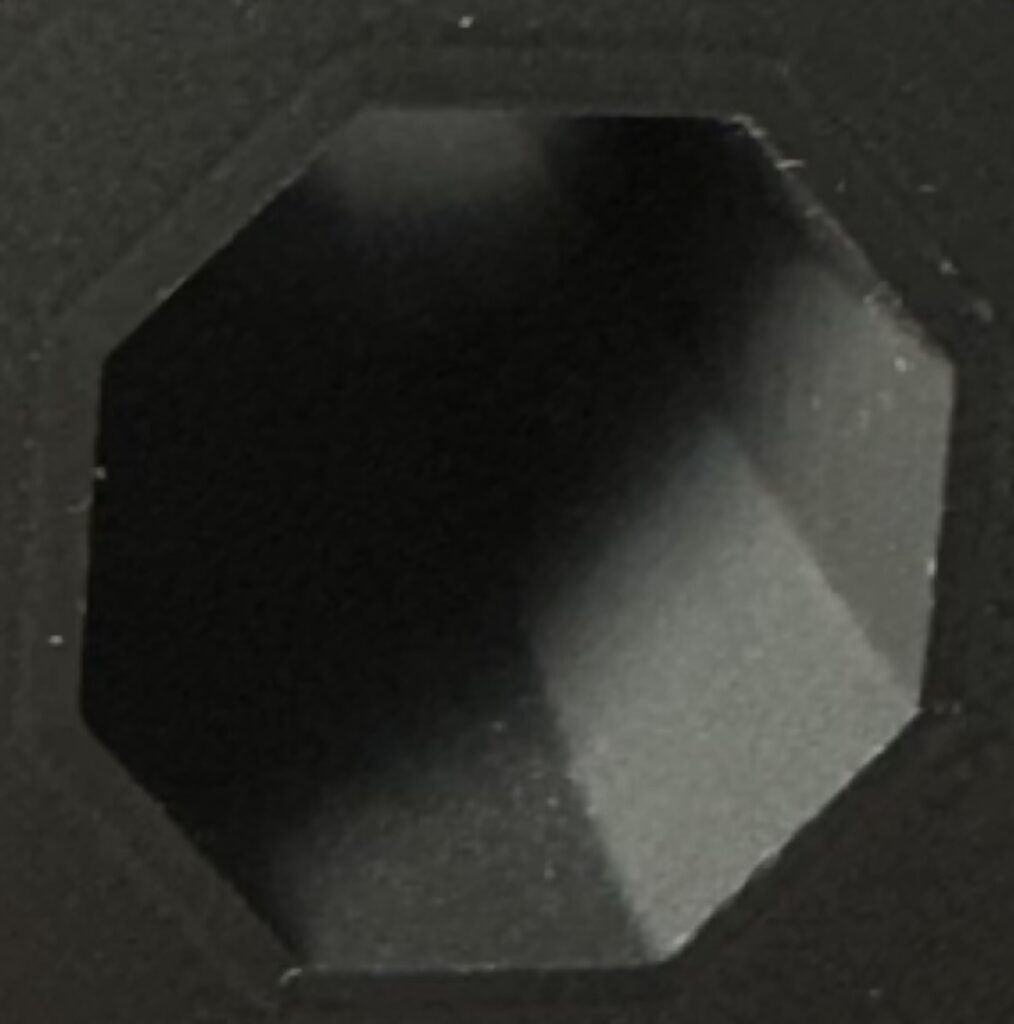 Purchase a Cabernet Mouthpiece