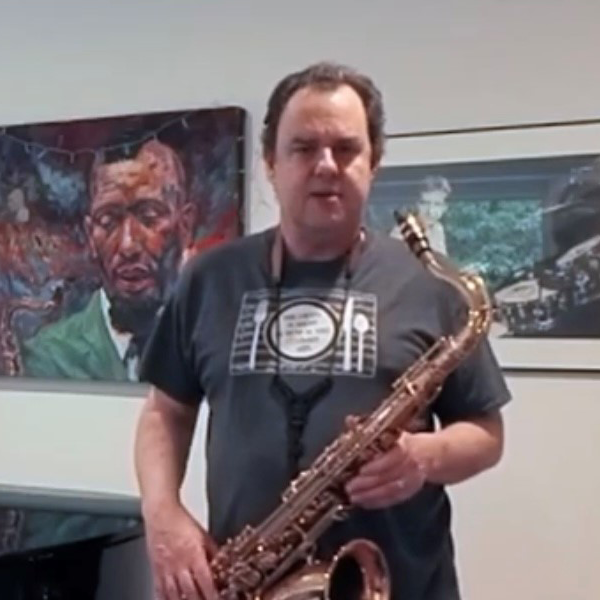 On Dec. 30, 2013 Phil Dwyer was appointed as a Member of the Order Of Canada. He was cited for "his contributions to jazz as a performer, composer and producer, and for increasing access to music education in his community." In January 2015 he was recognized by the Royal Conservatory of Music as an Honorary Fellow. These distinctions arise from an illustrious thirty year career collaborating with a storied roster of great musical artists, crossing stylistic and geographic borders. Phil has appeared on ten Juno Award-winning recordings, and over thirty nominated recordings. He is also a recipient of the prestigious K.M. Hunter Prize, for excellence in the arts.
Phil is a practicing lawyer, with his own firm in Qualicum Beach. Phil is a litigator, working primarily in family, estate, and environmental law, and appears regularly in Provincial and Supreme Courts. He is currently a member of the Law Society of British Columbia mental health task force. Prior to being called to the bar he participated in a pilot project with Toronto-based social services agency Sound Times and Legal Aid Ontario and assisting noted activist lawyer Peter Rosenthal. As a musician he remains an active performer, writer, and recording artist. He curates "Phil Dwyer's Jazz Canada" for CBC Radio Music, programs music for The Old School House, in Qualicum Beach, and is a partner in SeaWind Musical Instruments.
Originally from Canada's West Coast, Phil Dwyer burst on the jazz scene in Canada, and internationally, in his late teens as a saxophone prodigy and by his early 20s was, to quote former Globe and Mail journalist Mark Miller, "startling jazz audiences with his unprecedented command of both tenor saxophone and piano" and with his "extraordinarily authoritative playing….set the country on it's ear". His full time music career started in 1985 and from 1989-2004 Dwyer lived in Toronto, where he was a key fixture in the major jazz clubs, concert halls and recording studios. During that time Dwyer led his own various groups, and co-led bands with bassist Dave Young, multi-instrumentalist and composer Don Thompson, and pianist/organist Doug Riley. Bassist Young, well known for his long tenure with Oscar Peterson had this to say about working with Dwyer….."Phil Dwyer, in my estimation, is one of the great tenor players of jazz. We worked together in several groups while Phil lived in Toronto and he always brought fantastic energy and creativity to the musical setting we were involved in. He is a complete musician – a pianist and composer/arranger as well as a reed player. It would be difficult to over estimate the natural talent and commitment of this artist."
While keeping a busy schedule as a performer and 'first-call' studio musician in Toronto scene Phil also found time to travel and perform across North America, Europe, South America, and Asia, including tours with pop music icon Gino Vannelli, trumpet star Ingrid Jensen and with his own groups.
In the mid-1990s Dwyer began developing his craft as a composer and arranger, studying composition and orchestration with the eminent composer Michael Colgrass. Subsequent to those studies Dwyer's work was commissioned and recorded by the Gryphon Trio, Amici, Roberto Occhipinti, CBC Orchestra, Manitoba Chamber Orchestra, Hard Rubber Orchestra, the Art Of Time Ensemble and Duke Trio. A 2010 commission from Mark Fewer and McGill University led to the creation of a major work "Changing Seasons", a 40 minute concerto for jazz and string orchestras accompanying violin soloist Fewer. The 2011 recording of that piece, featuring Fewer with the Phil Dwyer Orchestra, won a Juno Award for Best Contemporary Jazz Album. Among other Juno winning recordings in Dwyer's discography are collaborations with Guido Basso, Don Thompson, Molly Johnson, Hugh Fraser, Joe Sealy, Terry Clarke, Diana Panton, and Dave Young.
As evidenced by his Order of Canada citation, Dwyer has also been active as an educator. In addition to his work from 1989-2001 as a sessional instructor at York University in Toronto he has also been a guest lecturer/clinician for leading music music programs in Canada, the U.S., and Europe. From 2005-2014 he owned and operated the Phil Dwyer Academy Of Musical And Culinary Arts on Vancouver Island. This innovative program brought together some of Canada's top young music students with an illustrious faculty comprised of many of the leading names in contemporary jazz music.
In the spring of 2017 Dwyer graduated from the Faculty of Law at University of New Brunswick. He continues to remain active as a musician and also as an advocate for increased public awareness of mental health issues.
Phil is enjoying numerous 10MFAN mouthpieces.