Description
"CELEBRATION" TENOR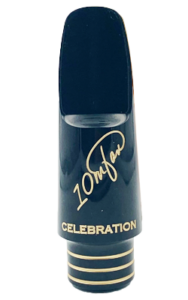 The most unique hard rubber tenor mouthpiece that celebrates and goes BEYOND the absolute best vintage Links of yesteryear.
An all original design which incorporates some of the Reso Chambers, Slant Signatures, and Early Babbitt models, along with my 10MFAN contributions, to make this The most unique piece for the Link players.
My goal was to make a piece that Mr. Otto Link would greatly approve of, if he were alive today.
This piece takes the old hard rubber tenor Links into the new millennium.
I've been known as the biggest high-end vintage Mouthpiece dealer on the Internet for over three decades, and this piece outplays the best Links in my private collection. I am very proud of that because it is not a copy of any one model. It is a combination of the best Link models with my own interpretation of how to take them to the next place.
The sound is rich and full and warm with lots of power available. This piece can be played at a whisper and the sound is so full.
If you are a vintage link hard rubber tenor lover, you can't pass on this, because there is nothing in the marketplace that compares. I say this with great pride!